CELEBRATING A 10-YEAR PARTNERSHIP WITH
The University of Manchester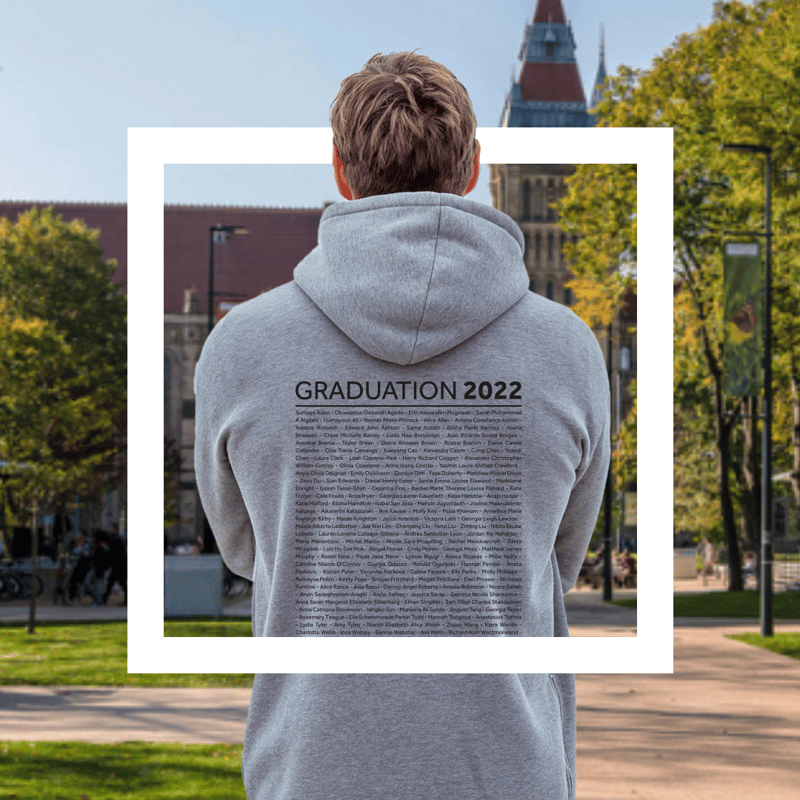 Invitation to Tender
Back in 2012, The University of Manchester issued an Invitation to Tender for a promotional merchandise partner to facilitate the requirements of branded merchandise for all the University and Alliance Business School's faculties.
Following a competitive tender, Infinity Inc. were successfully awarded a 4-year contract. After establishing our business services and relationships with the wider faculties, we naturally became an extension of the University of Manchester (UOM) team and progressed to becoming not only a supplier but brand guardians for the University.
As Infinity looked to encompass a wider remit within the university, it was apparent that we would be able to help establish and develop a full retail solution to maximise the appetite for university-branded goods. With only a bookshop retail outlet unit in operation on campus, retailing a small selection of apparel at the time, Infinity were able to offer a unique proposal to re-build an existing information area within the university place building, into a fully functioning retail outlet that worked in conjunction with our online webshop.
It was clear the university required a one-stop solution for merchandise and apparel that would not only increase sales but would simplify the whole process and provide a better service to their students and staff.
The Retail Solution
Already working with several universities across the country, we were perfectly positioned to offer a full retail solution that would completely alter the way the university offered branded merchandise and apparel to both students and staff.
Our proposal involved:
Fully managing an on-campus gift shop, including all products and staffing


Introducing a wider choice of items and as well replacing stock with eco-friendly alternatives



Re-building and managing their online website to offer a better user experience and a simpler way of reporting
Staff and Faculties
In order to establish and maintain relationships between the university and Infinity Inc, a dedicated account management team were assigned, including an Account Manager, Client Service Executives, Studio Design Team, and a Production Coordinator.
Having an office-based team and our own employees on the campus 5 days a week ensured UOM stakeholders could call on the Infinity Inc team at any point to assist with the next marketing campaign or upcoming event.
Plus, as the university's sole supplier, it meant everyone was clear on how and where to order, and it saved the need to gather several quotes every time.
Now employees can pop in store to order through the gift shop, or simply get in touch with our head office to enquire directly.
Graduations
A key milestone for the university is the graduation events, a busy 2 week summer period along with a winter graduation ceremony.
Historically, limited merchandise was available at the events, however, Infinity Inc took a new approach. Instead, we offered branded merchandise and apparel through the presence of the online shop and by utilising Infinity Inc's production expertise in applying print-on-demand 'Class of' branded apparel.
As well as better preparing the gift shop for extra sales, we now annually operate an additional pop-up stall retailing on-demand apparel which is situated on University Place where graduates collect their gowns.
The print-on-demand solution eradicated the need for ordering pre-branded stock. Instead, we can now purchase plain garments, (ordered in various colours and sizes) and then apply the personalised transfer design using our on-site heat press at the stall, to collect on the day.
A very successful 10 years
Having worked with The University of Manchester for 10 years now, we are pleased to see that overall sales have increased year on year.
Our Account Management team continues to work closely with the Head of Campus Services to support the university and continuously improve our offering.
In particular, the introduction of a fully-managed shop and online website has transformed the way the university operates its branded merchandise offering, and each year the university takes a record amount of sales around the time of graduations due to the additional pop-up stall.
Having built up a great relationship with the university over the last 10 years, we look forward to continuing our relationship into the future.