TOP 7 TRIED & TESTED UMBRELLAS
With over 1000 different umbrellas to choose from, when it comes to picking between light-up and fold-up, eco and budget, there are a lot more factors to consider than you think when picking one for your promotional giveaway.
That's why our team have tried and tested a whole range of different umbrellas, to narrow it down and give you our top 7! This way, no matter what your requirements, from compact to quality, you can trust that you're buying a tried and tested product that we love.
Eco-friendly
With sustainability becoming a priority for more and more customers, finding an eco-friendly umbrella we can recommend was our top priority.
The AC Midsize bamboo umbrella was a clear winner for us when choosing our favourite eco-friendly option due to its full bamboo frame and water-saving material made from recycled plastic bottles.
Its convenient automatic button for quick opening, high-quality windproof system, flexible fiberglass ribs, and lightweight bamboo shaft make it an all-round great umbrella!
If it's a compact version you're after then it also comes in a handy mini version!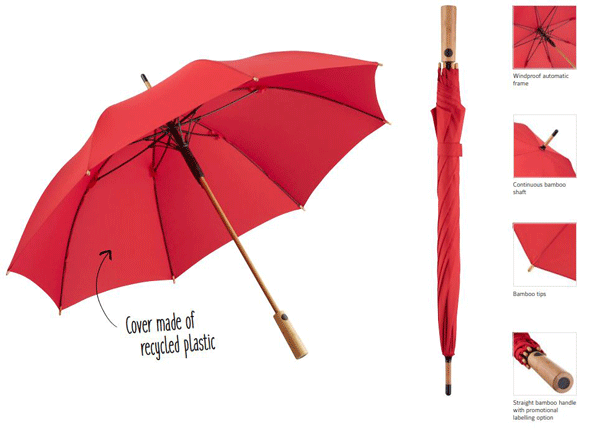 Compact
Picking our most popular telescopic umbrella was easy! Available in 18 different colour options, with a number of print areas to choose from including panels, tie strap, decal, and sleeve, the FARE AOC mini umbrella ticked all of our boxes!
The windproof system, soft-touch handle, and push-button also make it easy to use in stormy conditions. Our testers also loved the matching sleeve and handy elastic loop for easy carrying!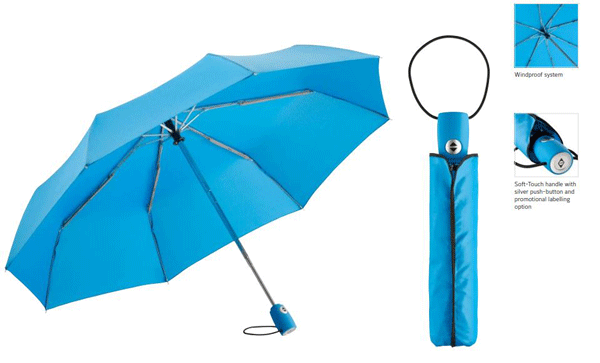 Golfing
When purchasing a large golfing umbrella, we know quality is key. That's why we've chosen the GP-49 umbrella as our favourite!
Available in classic black or navy, the automatic and windproof features make it sturdy and the large 14mm shaft and frame mean it's a great size for the golf course.
Our testers felt it had a high-quality feel to the polyester canopy and the soft-touch handle allowed for a comfier grip.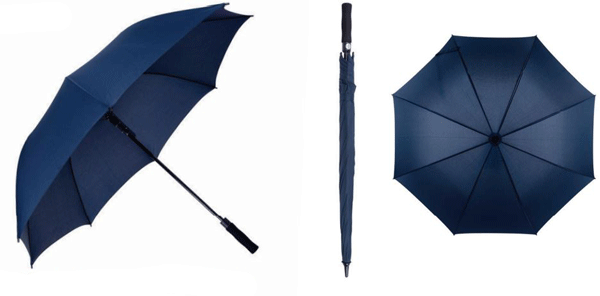 Budget
If you're wanting to give away as many promotional umbrellas as your budget allows, then choosing one of our cheaper options might be the best choice.
This doesn't always have to mean compromise though as our testers chose this Budget SuperMini umbrella as their favourite, due to its 11 different colour canopies, carry strap, and colour coordinated sleeve.
For a cheap umbrella, this certainly is worth every penny!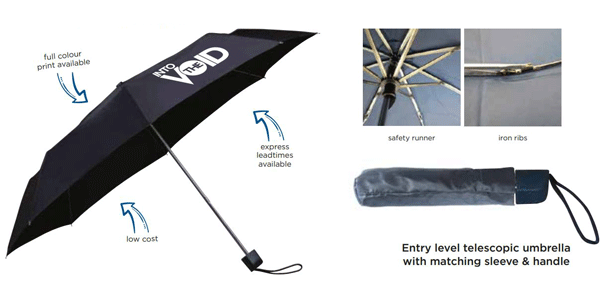 High-Quality
The AC Carbon-style Golf umbrella offers something totally unique with its sleek black embossed design, detailed crook handle, and stylish closing mechanism.
The water-saving cover material made from recycled plastic bottles, wind-proof automatic frame, and integrated push-button, mean it has everything you could need from a high-quality umbrella.
Practical yet sophisticated, this umbrella immediately stood out to us as being smart and attractive and really stood out as a high-quality item that is also eco-friendly!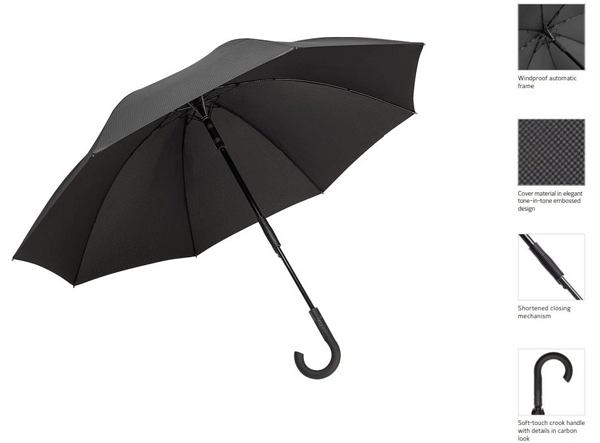 Matching
If you're looking for a family of umbrellas then the JUMBO range of umbrellas is a great choice. Available in two different sizes, small and large, they both have matching handles and frames meaning that they compliment each other nicely.
Even if you are just looking to buy one size at the moment, buying from this family of umbrellas means that further down the line, you're able to buy a matching version in a different size.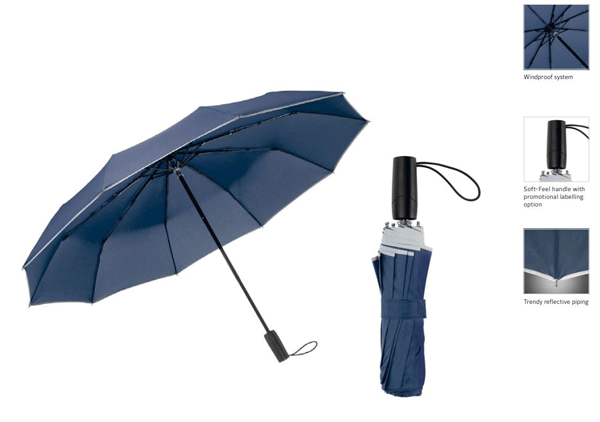 Novelty
If you're wanting something a bit different then novelty umbrellas are a great way of having a bit of fun and really getting your brand noticed!
Our Skylight umbrella may seem like a novelty product, but it actually got our vote due to the fact it allows for 24-7 brand awareness. By this, we mean that no matter what time of day, the built-in light means your branding is still visible, even in the dark!