PICKING THE RIGHT TYPE OF BADGE
How to choose the right badge for your logo
We know what you're thinking... a badge is a badge right? Well, not exactly...
There are actually many different ways of producing a badge, from stamping to printing and laminating to moulding. And the method that you choose will actually have a big effect on the finish of your design and therefore the quality of your product.
Of course our sales teams want you to receive the best possible product every time, so they are trained to recommend the best type of badge for your design, but if you want to understand the reasons behind our decision-making process, then this handy little blog is for you!
But first, why badges?
Badges have been around for centuries, thought to be a popular form of jewellery back in the middle ages. Since then they have been a significant symbol, used to signify rank in the military, authority within the police or fire services, allegiance to a political figure, or even completion of a religious pilgrimage.
As they have previously represented reward and status, the smaller versions we see today are still actually perceived as a symbol of importance and have even become a popular collector's item.
As well as being an extremely versatile item that can be used by anyone, pin badges are also cheap, small, and quick to produce, making them a great promotional item for any event or campaign!
Printed metal badge
BEST FOR: TINTS, GRADIENTS, CMYK COLOURS AND PHOTOGRAPHS
Printed badges have grown in popularity over the last few years. If your logo has tints, gradients or if the artwork is CMYK or photographic, then printing onto metal is the best way to produce the badge.
The process involves offset printing onto stainless steel or brass, however, if your budget is tight then aluminium can be used as a more cost-effective option.
Similarly, if your logo is spot colours, silkscreen printing straight onto brass, nickel, or gilt metal can be done for a more premium effect.
Printed badges are the perfect choice if you want a nice quality badge at the right price point.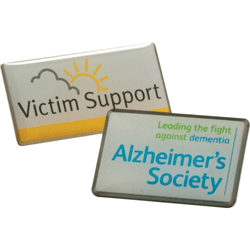 Hard enamel metal badges
BEST FOR: HIGH-QUALITY SMOOTH FINISH
Adding colour within raised metal lines has been a popular decorating process for centuries. Firstly the brass is die struck with the logo and coloured glass-based enamel is then ladled into the recesses before hand-firing to very high temperatures. Once cooled the badge is polished down on a linishing mop and plated to create a highly polished and super smooth finish creating a high-quality badge.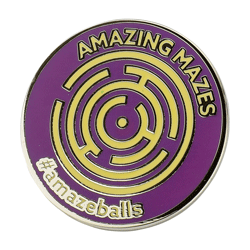 Name badges
Name badges are pretty self-explanatory, they do what they say on the tin. But as branded merchandise has evolved, there are actually far more details to consider when choosing a name badge today.
From PVC to plastic, and bamboo to recycled bottles, not only are there a whole list of materials, sizes, and styles to choose from, but deciding how you will use your badge is the first step to consider.
Will you use it to display a corporate message? Will it tell your customers the wearer's job title? Will you include their nationality or a fun fact about them? Today, companies are much more creative with their name badges and you should be too!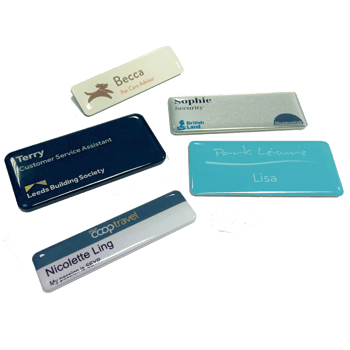 Die-cast metal badges
BEST FOR: INTRICATE SHAPES AND DETAIL
Zinc alloy or zamac is poured into pre-prepared 3-dimensional moulds, and then centrifugally spun to force the liquid metal alloy into the mould cavity. On cooling each badge can be polished, plated, and fitted. The result is a high-quality chunky badge that is smooth to touch with great form and a perfect raised relief finish.
Unlike most badges, die-cast metal ones allow for curved surfaces, cut-out details, and a 3D finish. However, they do have a distinct metal finish to them and enamel needs to be added to introduce colour.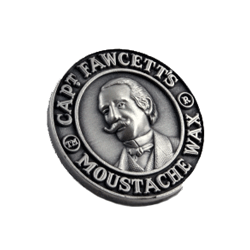 Button badges
BEST FOR: BUDGET
Button badges are a great option when your budget is tight. Completely customisable and available in different sizes they offer versatility, but are perceived as a budget badge.
Almost any design can be applied to a button badge and they work especially well for round logos, so the button badge can be a great option if you're going for quantity over quality.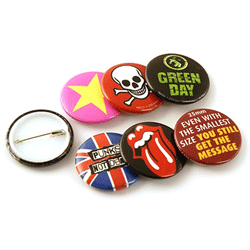 PVC badges
BEST FOR: VIBRANT COLOURS & ILLUSTRATIONS
Soft PVC was originally designed to add colour to clothing, bag and shoe patches, but the promotional industry saw it as a great way to produce colour badges as well because the PVC can be accurately Pantone matched, and via a die casting process, numerous colours can be added into the design.
Soft badges can be cut to any shape and can have a raised 3D finish as well, making them an excellent material for brand characters or for replicating product brands.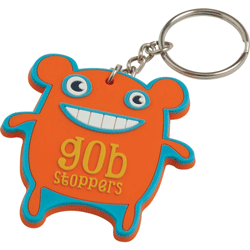 Choosing your badge fitting
You can opt for the standard butterfly clip which is usually associated with pin badges. Or you could choose something a bit different!
Badges can be easily be turned into tie clips, cufflinks, magnets, keyrings, trolley coins, or even medals, by simply changing the fitting!
Speak to our team about the different options you can choose.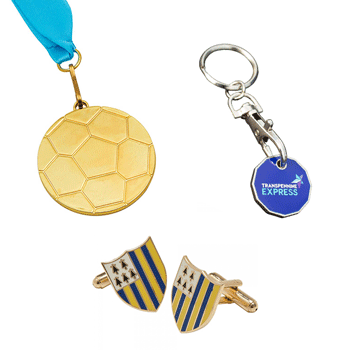 Order yours today
If you think a badge could be the right piece of branded merchandise for your event then get in touch.
sales@infinityinc.co.uk | 0113 3865 570