WORLD CUP 2021 (Played in 2022)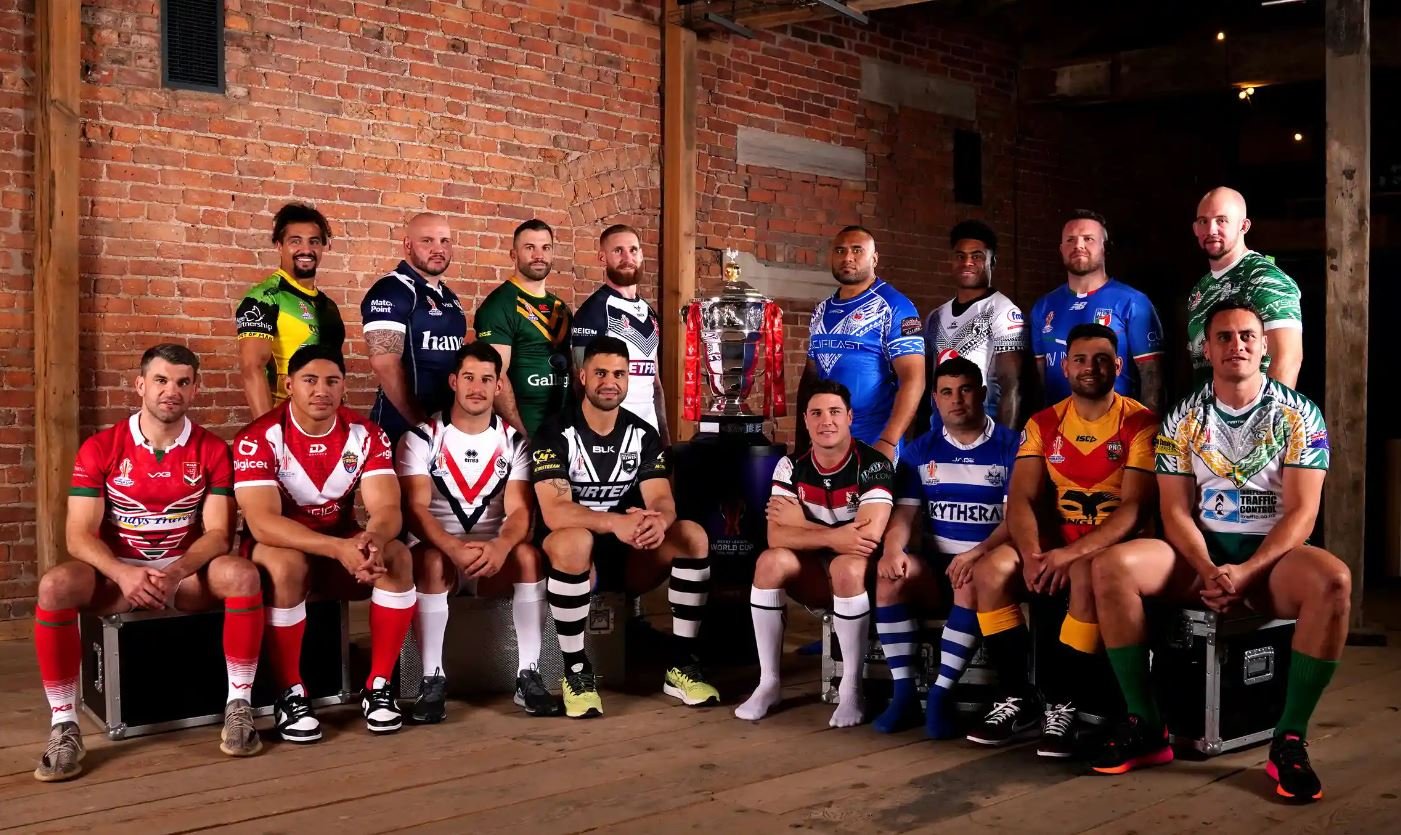 Overview
After being awarded the tender to be the official supplier of number and name block transfers for all RLWC teams in 2021, we knew that 2022 would be an important year for our clients as they prepared for 61 matches staged at 21 iconic venues, across 18 host towns and cities.
We are extremely pleased to look back at our successful relationship with RLWC over the past year, and in particular over the last few months in which we have been working very closely with all competing teams.
Thanks to our in-house production and team of Sports experts, we were able to provide over 12,000 transfers to 32 different nations, alongside a number of other services such as heat pressing and transfer production.
Challenges
To prepare for the upcoming tournament, our Sports Team had an initial meeting with Rugby League to understand their requirements and help identify any challenges that may be faced.
Timing
With only a small window to produce the transfers due to the late announcing of squads, we knew that speed and service were going to be key in making sure our solution was effortless from start to finish.
Communication
Working with all 32 teams to supply name blocks and numbers, as well as providing additional services to 7 international teams, immediately it was identified that due to language barriers, communication and organisation were also going to be paramount to ensure we nurtured our clients and provided the professional service we need to obtain accurate results, on time, every time.
Quality and durability
Finally, with our transfers being applied to sportswear worn in a contact sport, rigorous testing for quality and durability was going to be needed ahead of our production. This would require lean working to make sure our quality control did not affect the project timeline.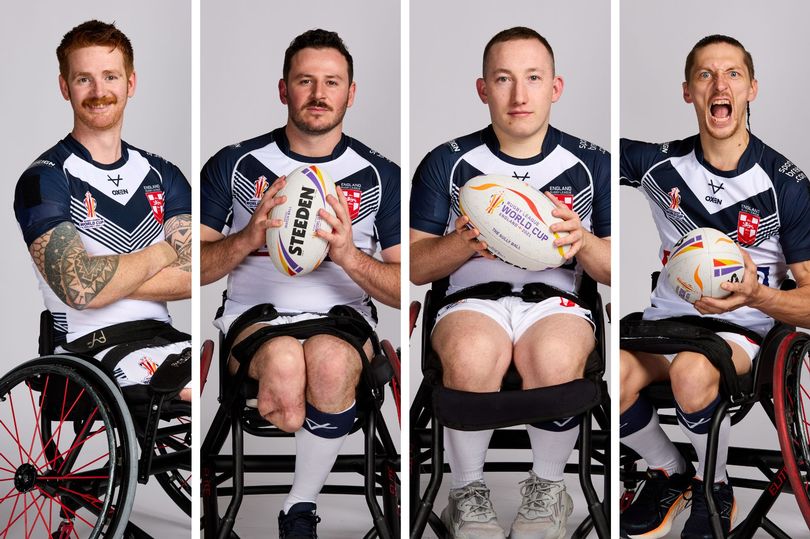 Solutions
Guidance
At the start of the project, we worked closely with RLWC to design the guidance for name block sizing, for men's, women's and wheelchair matches. This involved testing on multiple-size shirts and working tirelessly with our in-house artwork team to go through every name in the tournament and increase or reduce the sizing to ensure they fit perfectly on the shirts.
Our expertise in the industry allowed us to provide important guidance on all aspects of the project including pantone's, sizing and transfer requirements.
Testing
To ensure our transfers are of the highest quality, our production team carried out vigorous testing on the garments, which involved press testing, migration testing and wash testing, to ensure all transfers could endure the rigours of a rugby game.
Due to our contract with Super League we already had experience working with rugby shirts which proved to be very helpful in the testing phase.
Samples
Knowing how important it is that our clients are happy with the agreed colourways and artwork before we go ahead with production, we sent out samples for RLWC to approve.
Account Management
Our dedicated Account Manager and the wider Sports Team worked with our contacts at RLWC on a daily basis to provide exceptional customer service and ensure every requirement was met, including any last-minute player name changes, squad number updates or other amendments.
Flexibility
We also provided a 48 hour top up window for any replacement player names and numbers required in any colourway throughout the tournament which were then produced, quality checked, packaged and sent on same-day couriers across the country, on some occasions occurring twice a week.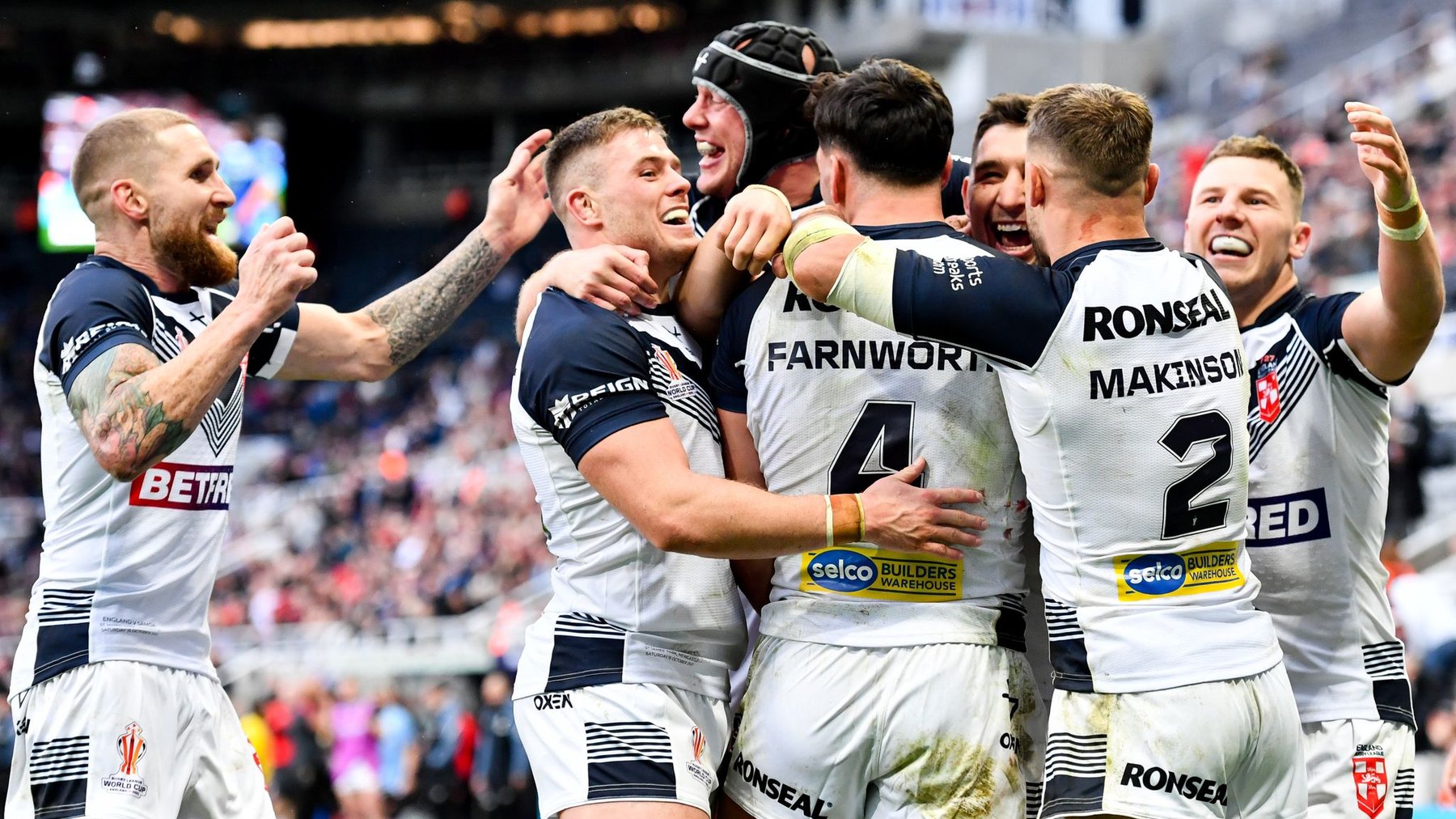 Extended services
To all of the 32 competing RLWC teams, we offered our full solution, of which 7 teams required additional services.
Thanks to our 20,000sq ft production facility housing laser-guided press machines, we were able to offer the clubs a quick turnaround on all of our additional services which helped the international teams in particular who were looking for support outside of their home countries.
Our additional services included:
Production of heritage numbers
Match decal patches
48-hour turnaround heat pressing application
Full retail service for quick turnaround merchandise and apparel
Team specific services
Wales, Papau New Guinea (Men's and Women's) and Lebanon
We provided a full express pressing service to these teams which included unpacking, production of transfers, pressing in 4 positions and repacking, before sending them to their hotel location.
For Papau New Guinea we also designed a custom font and large heritage numbers for their warm-up jerseys. These were heat pressed in-house and delivered at intervals throughout the tournament.
Brazil
We produced and applied a double-sleeve patch to all of their playing shirts.
England men, women and wheelchair
With their own in-house kit professionals, we supplied these teams with their heritage numbers and game decals along with clear pressing instructions so that they could apply them themselves.
New Zealand
Similar to English teams we supplied their game decals to be applied in-house.
All 32 competing countries
We supplied over 4,000 name blocks and 7,000 numbers in 8 different colourways using our SPT machines.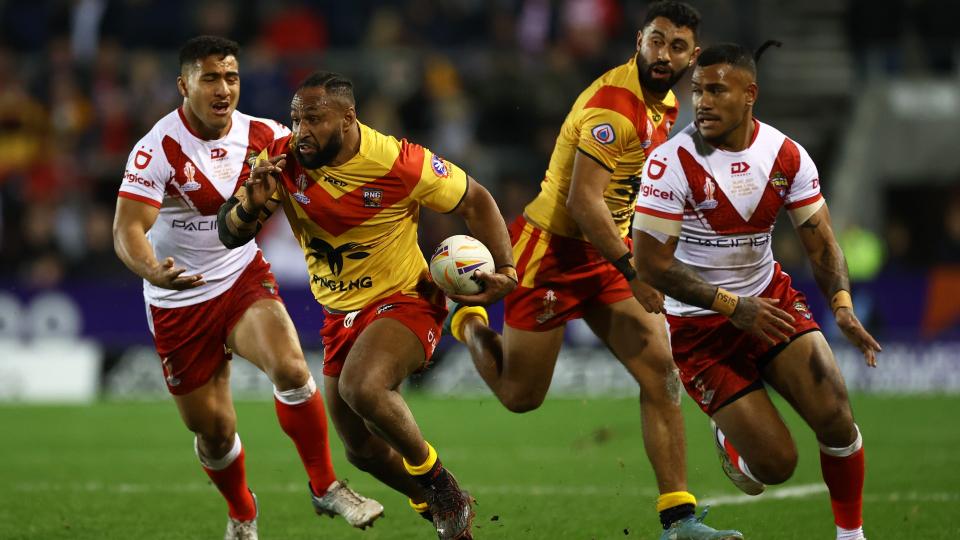 Looking into 2023
Thanks to RLWC we have expanded our connections within international sports, many of who work for different governing bodies and we are pleased to hear that they were all happy with the service we provided.
It has been a very intense 6 week period with a dedicated team working across 7 different nations and thanks to our clients the project ran very smoothly, overcoming language barriers and time constraints.
Congratulations to New Zealand and England who both took home winning titles across Men's, Women's and Wheelchair.
If any teams need further help in 2023, our services are available.
Please contact our Sports Team at sports@infinityinc.co.uk
Testimonial
I met Sam Sagar and Sam Fox in early 2022 after Infinity Inc had impressed in the procurement process to supply all the name and number decals for the 32 competing nations of the RLWC 2021.

Infinity Inc's customer service was second to none with both Sam Sagar and Sam Fox dedicating their time and effort throughout the year to collaborate on a strategy, process, and logistics of ensuring over 20,000 names and number decals were designed, printed, and delivered in time for our competing nations, based across the country during tournament time.

The infinity team were fantastic to bounce ideas off, they provided excellent knowledge and advice on things such as font size and lead times, and most importantly they made themselves available whenever was needed to ensure success.

Infinity is a company you can rely on to deliver when needed and the quality of the decals are also fantastic, our nations found the application easy and to top it off they looked fantastic on the playing shirts.

Big thank you to both Sam's and all the team at infinity for all your hard work.

Matt Cook - Operations Coordinator