How to celebrate Pride month at work this June
Pride month has become an event recognised across the world, where people come together to raise awareness for the LGBT+Q community. Taking place in June, popular celebrations often include street parties or garden parties, making the most of the summer weather, and embracing the colours of the Gay Pride flag in the form of glitter, feathers, clothing, decorations, and anything bright and playful.
By introducing some form of celebration in the workplace, not only does it gives employers a good excuse to get teams together and encourage them to let their hair down, but it also promotes inclusivity and diversity in the workplace, which is more important than ever.
Celebrations don't have to be long or expensive, so here are our top 10 fun and easy ways to celebrate Pride month in the work place.
1. Decorate your office
From bunting and flags to balloons and posters, decorating your office for pride is a quick and simple way of showing your support. Not only does it allow people to get creative and enjoy decorating their desks, but it adds colour and vibrancy to any workplace, instantly lifting moods and getting everyone excited to celebrate.
Our rainbow merchandise is perfect for overprinting if you want to add your logo or branding. Browse a selection of our best-selling items here.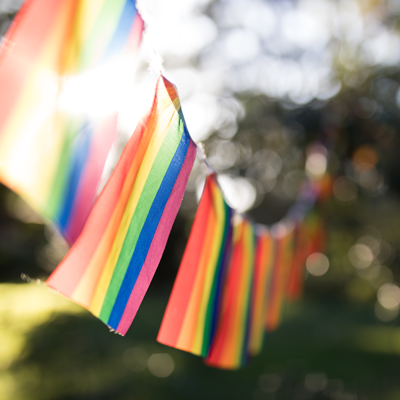 2. Organise a Pride fuddle
Everyone loves getting together over food, so what better way to celebrate than with a fuddle – a food huddle! Whether you want to get a caterer in or get your staff helping out, organising a team lunch or simply tea and cake, is a really easy way for everyone to enjoy the celebrations.
Check out our fun branded confectionery that could help bring some colour to your fuddle here.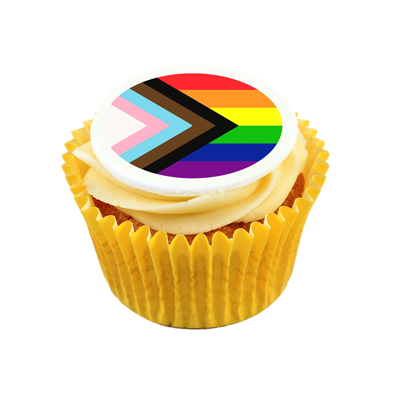 3. Gift your employees
It's nice to show appreciation to your employees every now and then, so what better time to do it than pride month when you have a great excuse to gift some bright and colourful merch. From confectionery to health and wellness packs, you may even just want to present them in colourful Pride branded packaging.
Check out our promotional gifts here.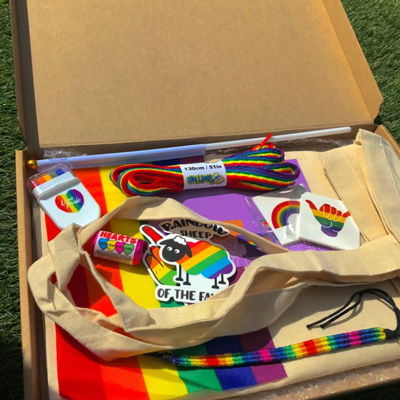 4. Raise money for charity
From raffles and quizzes to bake sales and sports days, there are many fun ways to celebrate Pride month and also raise money for charity whilst doing so. LGBT Charity UK is a non-profit charity organisation that provides support to LGBT communities, but you can also raise money for any charity that has meaning to you or your company.
Find out more about LGBT Charity UK here.
5. Hire Pride speakers or host a diversity workshop
Even if you assume your employees are LGBT+Q friendly, it's always best to make sure everyone in the team has had some level of training when it comes to inclusivity and diversity in the workplace. Not everyone has been brought up around members of the community and even if they have, it's a great way of teaching them about the history and importance of the LGBT+Q community.
6. Attend a Pride parade
Pride events happen all over the country, but the biggest usually take place in large cities such as Leeds and London. Get your face paint out, wrap up in the pride flag, and cover yourself in glitter, because Pride events are known for being fun, colourful and messy.
To find your nearest event head to www.pride-events.co.uk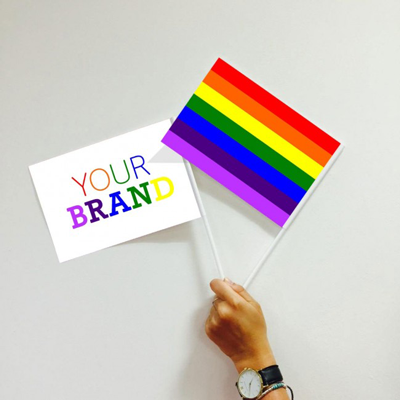 7. Organise a Pride t-shirt or flag design competition
Why not encourage your employees to get creative and design something they can actually use or wear for Pride month. A great way of switching off from their every day tasks for an hour, it can also be a great team bonding activity if done in pairs or groups. Plus, the bright colours are bound to brighten up the office!
Browse our best-selling t-shirts here.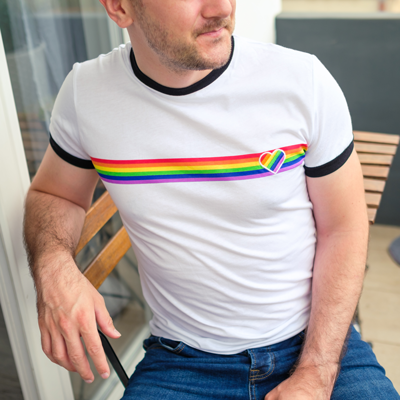 8. Encourage everyone to dress up as colourful as they can
From headbands to wrist bands and pin badges to scarves, encouraging your staff to dress up as colourful as they can, promotes fun in the workplace and offers something different to their usual day to day tasks. Why not offer a prize for the best dressed or ask people to donate to charity at the same time?
Browse our badges and magnets here.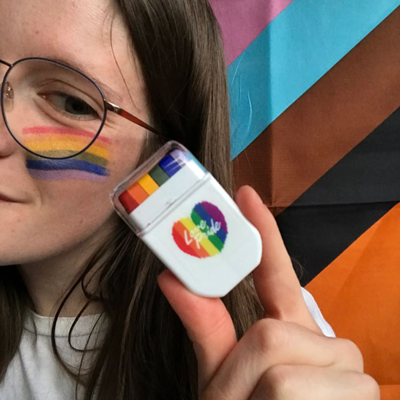 9. Update your company email signatures
A simple change that doesn't cost anything, updating your email signatures is a quick and easy way to show your clients you are supporters of Pride month. Whether you want to add your pronouns, or simply make a slight colour change for the month of June, it's a super simple way to show support for the LGBT+Q community.
10. Upgrade your lanyards for a month
If you're like most companies and have branded lanyards, then why not mix things up for a month and add a splash of colour to your uniforms with some branded Pride lanyards? With quick turnaround times and low MOQ's they are a cheap piece of branded merchandise that are easy to distribute across your team but a bit of fun.
Browse our lanyards here.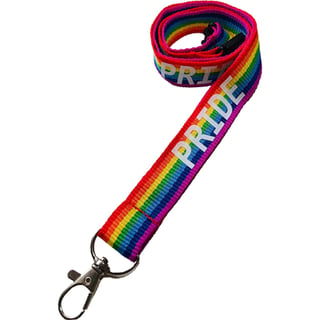 Speak to our merchandise team today if you're looking to celebrate Pride month with branded merchandise.