REACTIVE RETAIL MERCHANDISE
NOTTINGHAM FOREST
Overview
Infinity Inc. have been the trusted sponsor printing & application partner of Nottingham Forest Football Club for more than 5 years.
At our Leeds-based production facility, our production & application team turn around thousands of football shirts for the club on a weekly basis. This in-house capability ensures we can provide fast and flexible service when it counts. Following the late sign-off of a new sponsor, Infinity Inc. applied 30,000 sponsor transfers in just one week, hitting the clubs kit launch deadline.
Our proven track record of delivering time critical projects, lead to Nottingham Forest reaching out to the Infinity Inc. team to develop a reactive apparel range for their fans ahead of their EFL Championship play-off.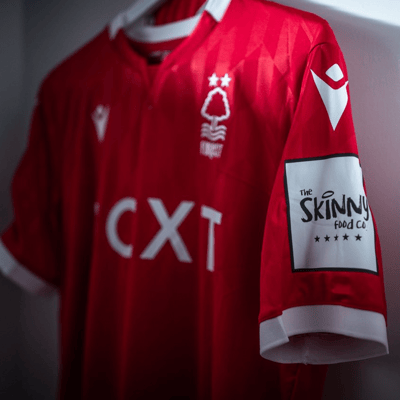 The Problem
Following Nottingham Forest's win by penalties in the 2022 Championship play-off semi final, the team were heading to Wembley for their chance to return to the English Premier League.
Having previously been knocked out in the semi-finals three times in the 2000s, this was Nottingham Forest's first play-off final. It would also be their first appearance at the new Wembley Stadium since it reopened in 2007, making for a momentous occasion for the team and its fans.
With less than two weeks until the final, Infinity Inc. were asked to deliver a reactive leisurewear range that tapped into this historic event for the club.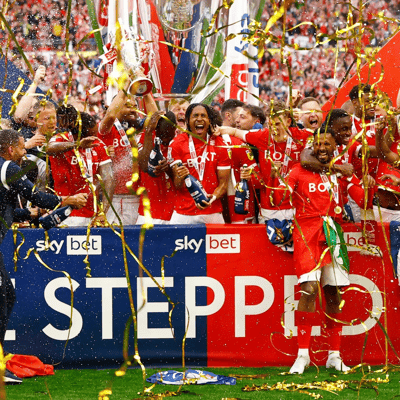 The Solution
The first step was for our expert design team to quickly develop an initial range of merchandise and apparel for the club to review. Understanding that the garments needed to be printed, packed and delivered within a short time, our designers created styles that could meet this requirement.
The result combined bold imagery and font that aligned with Nottingham Forest's brand guidelines. Utilising single colour on selected designs, optimised the production process as they required reduced screen printing, curing and drying times than other pieces of the collection.
Each design was adjusted to span men's, ladies and children's garments, allowing fans to create a coordinated look.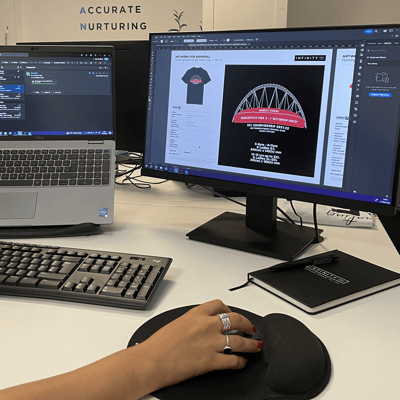 The Results
With the Wembley final range selling well, the Infinity Inc. design team prepared for Nottingham Forest being promoted to the Premier League. If the team were to secure the win, the club knew there would be significant demand from fans for merch celebrating this historic season.
A Premier League promotion range was developed, printed and packed, waiting for the final whistle to blow at Wembley. With the promotion secured, additional print runs were completed with 1000's of items turned around in just 5 days.
Infinity Inc. continues to support Nottingham Forest for their sponsor printing, application and retail ready leisurewear requirements.
Utilising our unique LINK platform, the club can quickly and easily order additional transfers on demand via their bespoke webshop. Whilst the dedicated Infinity Inc. Sports Team are always on hand to support the club with reactive branded apparel and merchandise requests that connect them with fans hearts and minds.