'Business Partnership of the Year'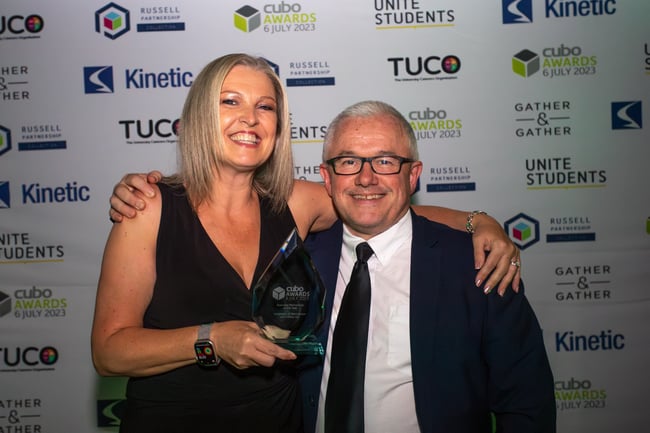 Who are CUBO?
We're proud to have partnered with CUBO College and University Business Officers back in February, an association for commercial and campus services professionals.
This is a fantastic opportunity for the business but in particular our Education Team who have made new valuable contacts within the industry thus far.
Allowing us to continue to expand our services across universities and higher education institutions, with our fully managed online and on-campus solutions.
Our goal for 2023 is to focus on growing and building our new partnership with CUBO by networking with some of their members. Including one of our existing customers, The University of Manchester.
How it began
Back in 2012, Infinity Inc. was awarded the contract to supply branded merchandise and apparel. However, through our close partnership we have become much more than a supplier, after spotting some great opportunities the university were keen to explore!
''When our partnership first started, we were selling garments through Blackwells, but in 2017 they gave our students and staff a hub on campus by building and re-fitting a gift shop, which they continue to fully-manage and staff today.''
Alison Shedlock, Assistant Director Estates & Facilities Head of Campus Services The University of Manchester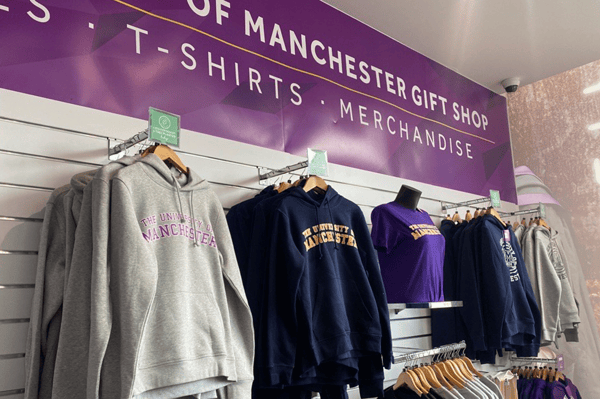 The Journey
Our wide team of Account Managers, Designers and Marketing Support, regularly introduce new concepts and promotions to the store.
This combined with our next day delivery and in-store embellishment machine means that there is no out-lay for the university and on-site stock levels are minimised.
As the store is fully managed by us, we take care of the ordering, forecasting, reporting and invoicing, with regular QBR's, we are able to successfully offer critical sales data in order to forecast future revenue opportunities.
Twice a year we operate the pop-up graduation stall, as well as staff and managing it, retailing merchandise and garments which are personalised and pressed on demand for students to take home on the day. As it's a very busy time of year it's a great way to provide extra support. In 2023 we sold over 1,500 garments over two-weeks, totalling sales of over £30,000.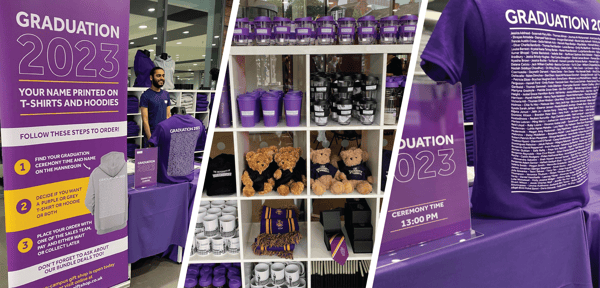 The Results
In the first year of opening the store, sales increased by 115% which has today risen to 263%. Additionally, in 2022 we recorded over 52,000 visitors to the store with an average conversion rate of over 46%.
Online sales also increased after we developed us a bespoke-built web shop which we continue to manage today, shipping directly from our warehouse in Leeds, to alumni all over the world. But the on-campus and online gift shops have not just improved the student experience, because staff now also have a direct line of communication with Infinity Inc. to email or pick up the phone and receive same-day quotes for branded stationery, volunteer t-shirts, lab coats, sports kits and anything they require for their faculty or event.
Acting as brand guardians, the university can always trust that any items ordered will be on-brand.
Today, 80% of the merchandise and apparel is eco-friendly or sustainable and since January 2023, Infinity Inc are now planting a tree for every eco-friendly item purchased. This year has also seen a shop re-fresh with updated POS and the feedback from students has been great.
''With our bi-centenary year approaching, we're excited to see how Infinity Inc. will use their innovative approach to support us with such a special event. The past 11 years has been effortless, with proven results and we could not recommend their services enough.'' - Alison Shedlock