BUILT FOR DEVELOPERS, TRUSTED BY GLOBAL ENTERPRISES,
auth0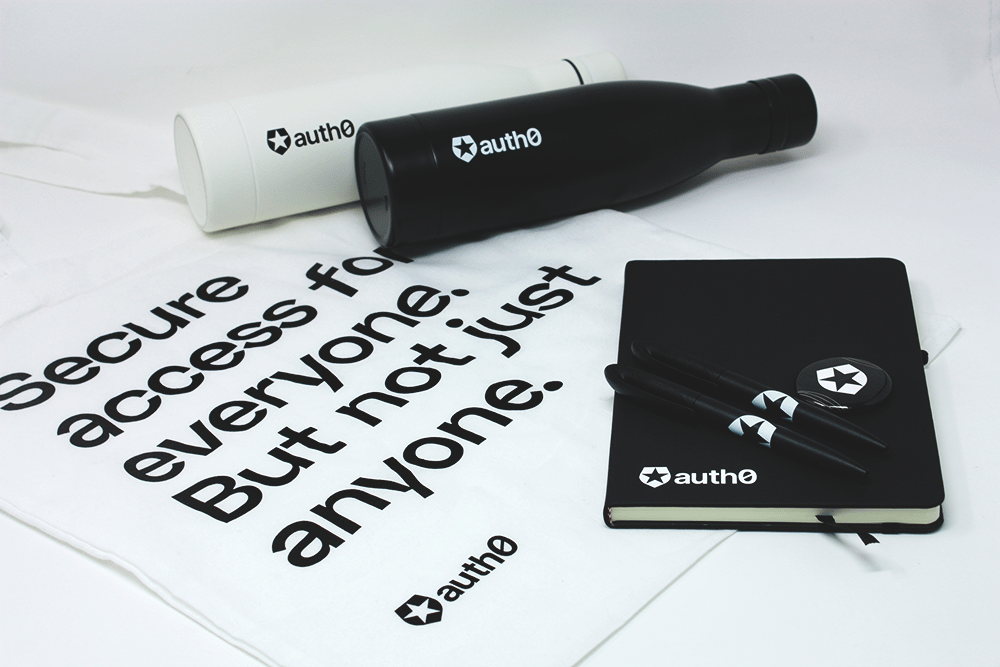 How it began
In 2021, auth0 reached out to us for an urgent t-shirt order that needed processing and delivering within a week. With the ability to move around our screen print transfer schedule at the last minute to fulfil the order, they were delighted with the customer service they had received and our ability to deliver the items with such a quick turnaround.
Also very impressed with the quality of the garments and the finish of the branding, our contact at auth0 then circulated our details internally to other departments, which has led to a very successful recent order for branded merchandise.
Our first big order
In January 2022, following on from the quick turnaround t-shirt order, we were delighted to see that we had received an enquiry from their Customer Marketing Manager. Wanting to source badges, notebooks, stickers, water bottles, tote bags, baseball caps, t-shirts, hoodies, sweatshirts, and beanies, we knew that we would be a great solution due to our wide product offering.
Choosing the right products
When initially briefing their Account Manager, auth0 said they would like to see a selection of high-quality products, that would reflect the service they offer their clients.
Opting for our popular Vasa water bottles in a matte black finish and our bound notebooks with a soft feel touch, the black and white colour scheme also added to the premium feel of the finished product range.
Requesting a statement of work before we could commence, our merchandise team got everything together so that auth0 could raise a PO and our production team could make a start on producing the items.
The end result
Having successfully delivered over 5,000 items for their UK team to distribute internally, we also shipped a portion of the order to their office in Germany within a week of ordering.
auth0 are now giving out the branded products to individual teams for events across the spring-summer calendar as well as using them for employee gifts.
Since completing this order we have also been in touch with other departments and contacts of auth0 who have placed similar orders, including one for an event at The Excel in London this summer.