ALDI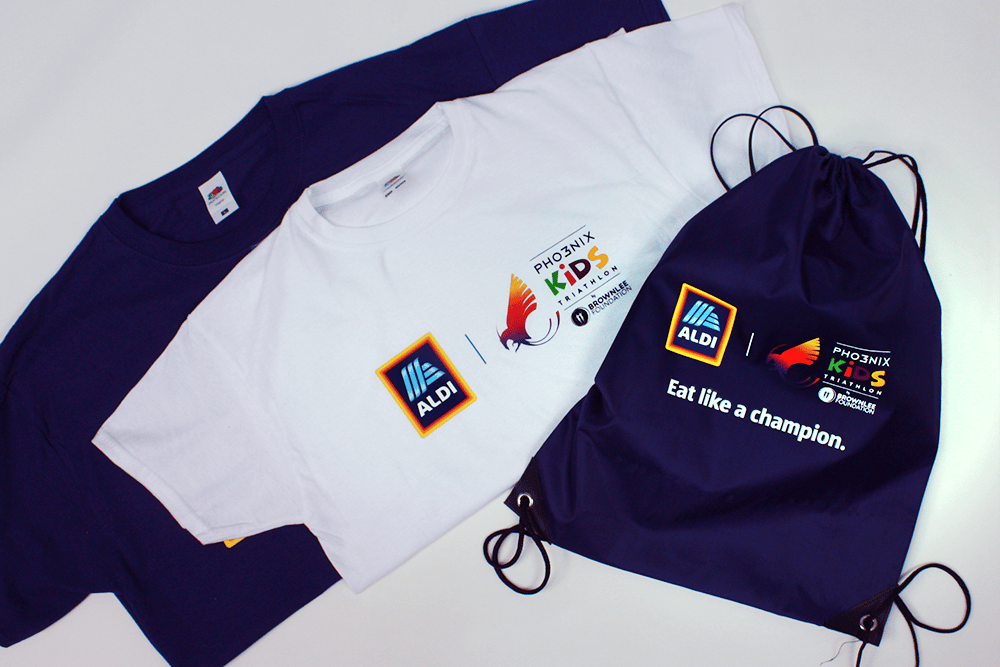 The project
Infinity Incorporated were approached by Aldi Stores Ltd in 2022 to produce branded apparel and merchandise for sports events in association with the Brownlee Foundation and Pho3nix Kids.
As current suppliers to Aldi stores for their staff t-shirts, which received great feedback, we were well placed to produce the apparel and merchandise required for this event which included 2500 t-shirts and 2500 drawstring bags.
Looking for a quick turnaround, the branding was completed at our onsite solar-paneled production facility using state-of-the-art laser-guided heat presses to ensure consistency of placement of the logos.
Branded onto our best-selling essential t-shirts and bags, the items were chosen to provide the best products for their budget.
The event
Delivered to 11 different locations over two weeks, the drawstring bags and tees were handed out at the Brownlee Foundation kids' triathlon events.
https://www.thebrownleefoundation.org/
They have been taking place across the country and are designed to help children be more active and try out the different elements of a triathlon.
Both the t-shirts and goody bags were handed out to the participants at the end of the race along with their medals.
The feedback
"
The products were fantastic and everyone has been very happy with the end result, we look forward to working further with Infinity on upcoming projects for 2022."